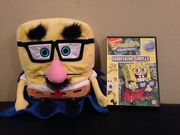 Dr.SeedWeeds is good unguy in The Mega series
Use in videos & apperance
Edit
he's spongebob do is be funny made the heroes back in time played SSEGA for 10 stechies died by the heroes working for Tony for a parody of Big Brother called Fun City.>Apperance: black eyebrows glasses funny nose & a cape.
He's spongebob (never said)
He came with a dvd of something smells 
scared of buff shadow (weredog form)
Ad blocker interference detected!
Wikia is a free-to-use site that makes money from advertising. We have a modified experience for viewers using ad blockers

Wikia is not accessible if you've made further modifications. Remove the custom ad blocker rule(s) and the page will load as expected.